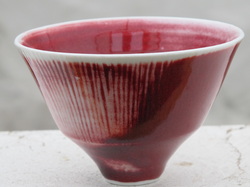 I have been working as a professional potter for over thirty years.
I have been fortunate in three mentors in my development. First Joanna Constantinidis who became a point of reference through work and friendship.David Leach suggested to me that my style of working suggested porcelain and latterley Geoffrey Eastop offered regular critique sessions, which I now in turn offer to other potters as a continuation of my good fortune.

My porcelain pots begin on the wheel.It is the still point that gives balance-the movement of the moment is caught.
The glazes and firing method are integral to the whole.Porcelain is fired in a gas kiln to 1300ocwith a heavy reduction in the last four hours.This gives the misty blues and grey celadons of uncertain horizons(Fen country where I live] and the vibrant hot red to show that heat has been withstood! Ihave to remember-for me porcelain is the silk of ceramics and to respond accordingly.

Most of the wood fired stoneware also begins on the wheel but this clay requires a very different response.I use wood ash for the glazes and find that in the firing different woods give very different effects-most notably hazel give a strong flame and a warm almost apricot colour. Slips and overglaze colours are added to give vibrancy and a narrative of the Fen landscape where I live and work.

---